Winter Running and Cold Weather Tips
"It's the most wonderful time of the year.." Unless you're a runner who is trying to put in some speedy repeats!
A few people have asked me, 'how do you cope with the winter? Those cold and slippery runs."
Growing up my family was an alpine ski family. When the flakes started falling I relished in the fact that soon it would be cold mornings zooming down the hills at the little resort we were members of. Those snowflakes made my smile from ear to ear. But running was always a challenge.
Over the years I have a picked up a few tips on how to stay warm, dry, and safe out running in the winter.
Be Seen
Years ago I blamed the drivers for not being able to see me when I was out running in the dark. Things were different then, companies didn't put reflective materials on their clothes, most of the winter running gear they sold was dark colours, and there was no talk from these companies about being seen.
Things have changed, and so has my view. It is impossible to see a pedestrian (runners and walkers alike, ok and you too cyclists) in dark clothes; you just blend in with your surroundings.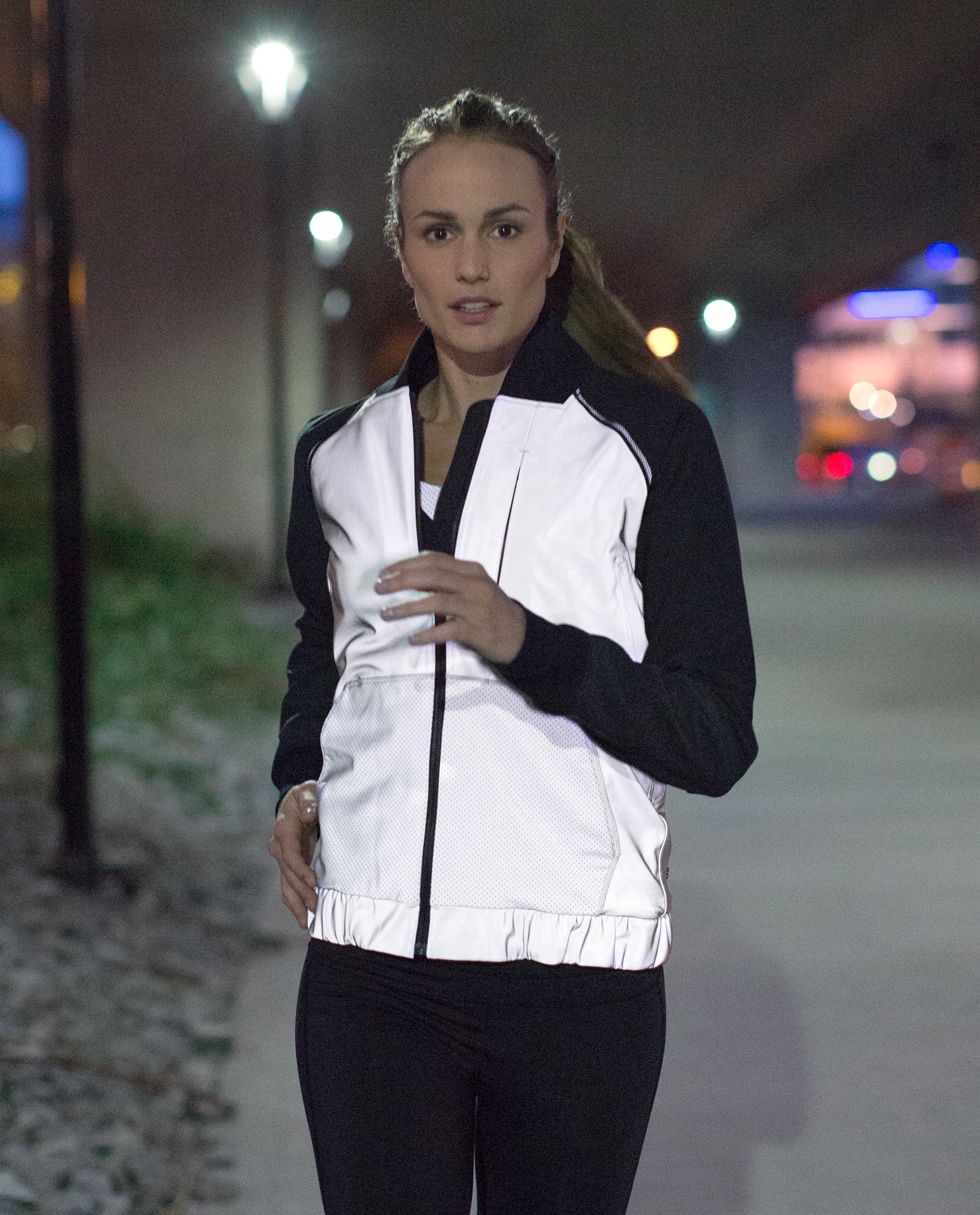 Buy gear that reflects when light hits it. All of the big run companies are making winter running gear with reflectivity on it. Some of my favourites are the Lululemon Reflective Speed Tight, Lululemon Bright Bomber Jacket, and The Nike Flash Collection.
I haven't tried these yet but these shorts from Lululemon look like they might bring some 'fun' to your run-outfits.
Layer, Layer, Layer.
When you walk out the door you should feel cold, and you should be chilly for the first 5 minutes; it is about the only way to guarantee to not over heat. I read that somewhere, once upon a time, and it generally doesn't let me down.
Also from my alpine ski background, I have learned that layering is the best technique, and make sure you have various zippers that allow venting. Start at the base and make sure your core stays warm. Ladies, that means trading in your thong for something that covers a little more of your bum, like a hipster panty. Consider using a summer singlet/tank to tuck into the bottom layers.
As it gets colder you will have to add more layers. But think of it this way, however many layers you think of top you will probably need on the bottom. Aside from the tank try and make the top number of layers match the bottom. Keep those hamstrings and quads warm and I promise your run will be more enjoyable.
A Vest Will Become Your New Best Friend
Since I began cycling a few years ago I have learned what an awesome addition a vest can be. Your arms can breathe, your core stay warms,  it keeps the wind out and often it has pockets to hid your hat and gloves if you get to hot, and it keeps your electronics warm.
Depending on the temperature you'll want to move between a wind vest and something a little thicker and warmer, like the Lululemon Fluffin Awesome Vest. I'm getting better at using on a run; I have to admit I have only recently become a vest-convert.
Get some Traction
Slowing down, changing your stride. These are all things that can really affect your running and make you sore. After the first snowfall in Toronto Wednesday I got stuck on an unexpectedly long cool down. The snow was coming down quite quickly and the roads and sidewalks were pretty slick. I had to slow down and as a result my hips, core and feet were really fatigued, and a little bit sore, the next day.
Back at home I actually had the tools to make my runner safer. Years ago I bought these STABILicers from 32 North. When I purchased them I didn't know that these were the walking ones. I am thinking of investing in their newer running version, but I really like the grip I get from the STABILicers without the pressure on the top of my foot.
Another option is to experiment with putting some screws in your shoes. Although I have never tried this, Matt Carpenter's article The Screw Shoe has some great advice.
From the Tip of Your Toes to the Fringe of Your Fingers
One of my challenges on a run is keeping my fingers and toes warm on the longer distances. I find I sweat, the sweat starts to freeze and then my fingers and toes start to get a little chilly.
Investing in great socks is a start. My favourite socks are the winter DeFeet Socks, they are functional and really cool looking. But Mountain Equipment Co-op (MEC) has some fabulous sock options.
Same goes for your hands, invest in some good gloves and mitts. Yes, invest in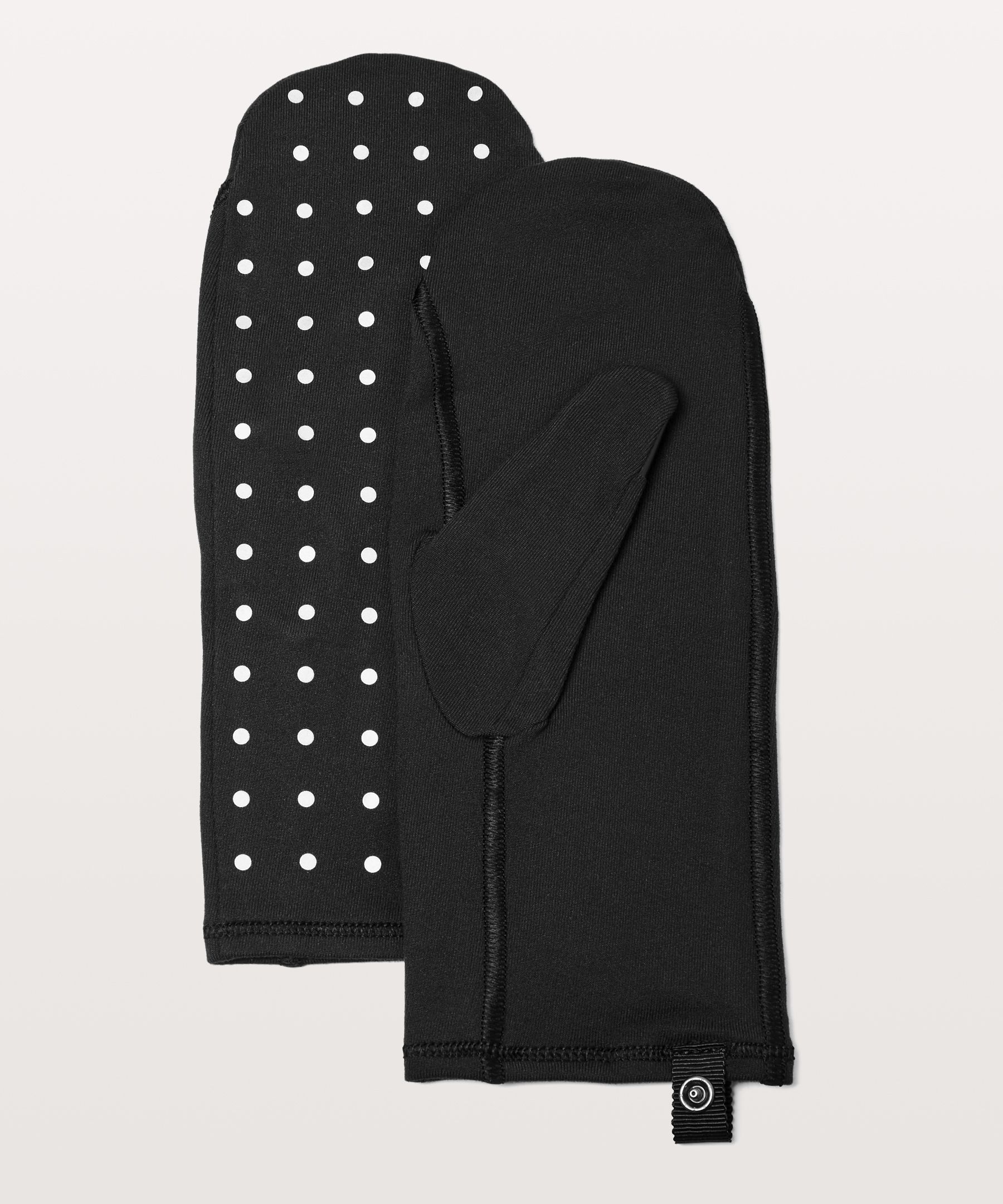 both, because like your pants and shirts, layering with gloves is a really good option. My favourite combination is a looser fitting, wind protective mitt, like the Lululemon Run With Me Reflective Mitten over top of a glove, like the Lululemon Brisk Run Glove, is the best way to keep your hands warm. You can remove your over-mitts as your hands warm up and put them back on if your hands start to cool off again.
And between your toes and fingers remember to keep your neck warm. I have several BUFF's that I use to keep my neck warm, and sometimes as a headband! The BUFF is basically a soft microfibre tube that comes in amazing colours and patters. Of course you can always use the Dollar Store Bandana, it's just not as much fun!
There is something beautiful and tranquil about winter running. Sunnybrook was so quiet and peaceful on Wednesday night. I can't wait for more snow and more snowy runs.